Printing is a fundamental part of the messaging game. Brochures, flyers, business cards, and banners are all different marketing elements that contribute to the success of a marketing campaign. But how do you choose the right printing method for your business? If you've been in marketing long enough, you would have come across the debate on offset and digital printing methods. In this article, we'll be delving into all the pros and cons of the two printing methods and how MVP Print is using the methods to print the perfect marketing collateral.
Offset Printing Process – What is it and Why Print this way?
Offset printing, a widely used printing method includes using thermal printing plates to transfer an image onto a sheet of paper. The process allows for large print runs in a short amount of time, making it a more efficient process for large businesses with commoditised products and ample marketing budgets. With offset printing, the ability to use custom inks and the option to print on a variety of surfaces are possible.
However, set-up costs for offset printing are a bit on the higher side when contrasted with digital printing, and lead times for delivering printed pieces might be longer. You need to have the right materials to get started and set the equipment up. But for MVP Print, the offset printing method is widely used for commoditised goods in high demand, like books, magazines, and production-ready leaflets and brochures. In short, print runs with large volumes are printed Offset Lithography (Offset)
What Offset Presses do MVP Run ?
At MVP, we run Sheet Fed Presses for Commercial Printing. The main press stays on Full Colour (CMYK) jobs which has certain advantages – we can keep an operator on this constantly and run PMS ink jobs on other presses. Sheet Fed Presses run individual Sheets as opposed to roll-fed Web Presses. We use Heidelberg image-matching technology for accurate full colour Ink reproduction, ensuring print runs with large volumes have image areas printed accurately over a sustainable time period. This, coupled with quality Ink and Paper Quality ensure our Full Colour and Spot Colour production is world-class.
How Long does Offset Printing take to Dry ?
Offset printing takes longer to dry than digital printing, as the inks are absorbed into the paper and take time to fully set. The drying time for an offset print job will depend on the type of ink, paper choice, humidity levels, and other environmental factors. Generally speaking, it can take up to 48 hours for a standard offset print run to dry completely. For jobs that require a special ink, such as metallic and fluorescent colors, it can take even longer. MVP Print offers a range of quick-drying ink options to ensure that your prints look their best without sacrificing quality or delivery times.

Digital Printing – What is the Difference?
Digital printing, on the other hand, makes use of PDF files and other newer image copying technologies. The process is a lot less hands-on than offset printing. In contrast to offset printing precision, the digital printing method is precise. Capable of providing small print runs and is ideal for customised prints and instant gratification with quicker turn-around times, making it a good fit for small businesses. As a result of its nature, smaller test runs and one-off orders can be produced with digital printing machines at minimal lead times and with no initial expense. An added benefit of digital printing is the ability to make changes to image files at the printers up until the printing starts without any additional expenses.
The downside of digital printing is that using substandard paper stock may lead to low-quality prints. but don't worry, we only use A-Grade stocks!If you come across a printer that is running a cheap or outdated Digital Production Engine, the images may not look as vivid as offset alternatives. Digital used to be called `Near Offset', and a decade ago it was inferior. Nowadays, however, we have clients that prefer Digital. The catch is the overall cost per printed piece is higher than with offset printing when printing higher volumes. But for MVP Print, digital printing machines are popular for short-run or on-demand print jobs, like personalised direct mail letters, postcards, and flyers. So as opposed to Offset, shorter print runs are done Digitally, and Longer runs are done Offset
What Digitial Machines do MVP Use ?
We run twin Ricoh Pro 9200 series Production Engines… these boast exceptional benefits suited to a wide range of printing needs. Its high-speed performance makes it an ideal choice for large-scale print runs, ensuring quick turnaround times without compromising quality. Equipped with innovative image processing technology, it offers superior image resolution, delivering sharp, clear, and vibrant prints, whether for text or images. Furthermore, the Ricoh Pro 9200's versatility extends to its wide range of media compatibility, accommodating various paper types and sizes. This provides users with the flexibility to create diverse print materials according to their requirements. Lastly, it prioritizes sustainability with energy-efficient operations, aligning with the increasing demand for green solutions in the industry. In short, they are Schmick-O !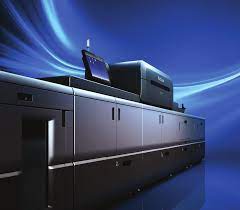 So Print Run Size a Deciding Factor ?
Yes. Print runs that require more than pieces are usually done using the Offset printing style, whereas print runs that require less pieces make use of Digital printing. Digital printing is the go-to method for fast prototyping and for small print runs, while offset printing is used for quality printing processes where precision and predictability are fundamental qualities.
MVP Print makes use of both offset printing and digital printing methods to provide a complete printing solution to their clients. The method used depends on the size of the print run, the quality requirements, the time constraints, and the customer's preferences. In some cases, the two methods are combined to produce optimal quality prints with customised designs at affordable prices.
Which Way will my Job get Printed ?
In summary, print quality, client preferences, business budget constraints, and the size of the print run are considered to determine the printing method used. In determining the best printing method, several factors come into play, including lead time, set-up costs, substrate costs, and turnaround times. For MVP Print, choosing between digital and offset printing makes it a simple decision based on print run size, quality requirements, time constraints, and the client's budget. Remember, every printing job is unique, and understanding your printing needs is the first step in meeting your business's marketing objectives.